(Revised 11/17/20)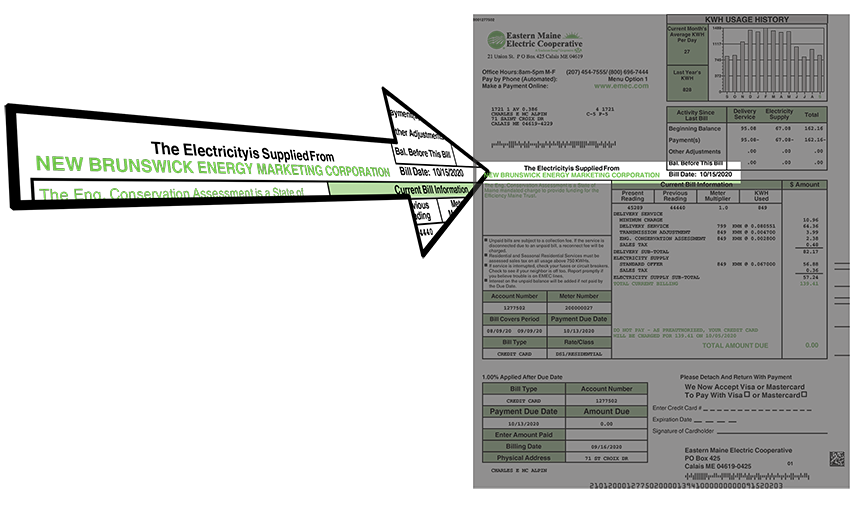 The rate Eastern Maine Electric Cooperative's (EMEC's) members pay for electricity supply will drop 0.8 cents per kiloWatt-hour (kWh) starting with the November 2020 electric bill. For an electric consumer using 500 kWhs/month, the change will result in a savings of about $4/month or $48 per year. Since November of 2017, the Standard Offer supply cost for EMEC's territory has been 6.7 cents/kWh. Beginning November 1st, 2020, that rate will drop to 5.9 cents/kWh.

"Standard Offer" is a default supply of electricity with guaranteed availability to all consumers. 

Co-op members will notice no service-related change under the new Standard Offer, other than a lower price per kWh. The power will still be generated and supplied by New Brunswick Energy Marketing Corporation (NB Power), the current Standard Offer supplier. Starting in November, however, the name of the Standard Offer supplier will be "Eastern Maine Electric Cooperative," because the supply will be purchased and sold at retail by the Co-op.
For the past twenty years, each member of Eastern Maine Electric Co-op has purchased retail electricity supply directly from someone other than Eastern Maine Electric. Some Co-op members may not have realized this, though. Charges from the third-party supply companies have appeared on EMEC's bills, because the Cooperative offers billing and collection services for suppliers. The name of the power supplier is shown on each bill, below the member's mailing address. (See diagram above.) 
How is it possible for EMEC to be the supplier, given that EMEC is a delivery utility in a state with electric deregulation? When Maine's electric industry was restructured in March, 2000, consumer-owned delivery utilities like EMEC retained the ability to sell retail power within their delivery territories. The reasoning was that these not-for-profit utilities could access the wholesale markets on behalf of the communities they served, whenever doing so would help lower supply costs.
Now, for the first time, the Cooperative will use that option. As discussions were underway for the upcoming Standard Offer contract, the Co-op found that a better supply rate was possible if EMEC purchased and resold the supply than if NB Power sold to Co-op members directly. Eastern Maine Electric is first and foremost a delivery utility. The Co-op's margins are earned by delivering the electricity. Since purchased power is passed through at cost, the Co-op's margins will be unaffected by this change. 
January 2022- Read more about EMEC rates not increasing.